Case Study: Global Access Diagnostics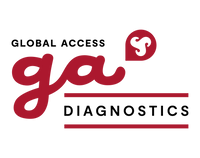 Global Access Diagnostics is a leading developer and manufacturer of advanced lateral flow and rapid diagnostic technologies.
Who are Global Access Diagnostics?
Global Access Diagnostics is a leading developer and manufacturer of advanced lateral flow and rapid diagnostic technologies. From research to manufacture and development of custom tests, Global Access Diagnostics offer affordable access to rapid diagnostics. Their forward-thinking approach has led them to re-invest 100% of their profits, increasing the access to rapid diagnostic testing for demographics that need them the most. This stance has made them the world's first full-suite social enterprise diagnostics company. They truly believe that testing should be available to everyone.
What was the problem?
Global Access Diagnostics needed to plan for a massive increase in orders, so required a robust inventory management system as well as to migrate their accounting from an on-premise setup to a scalable cloud-based solution. Their current systems and processes were in danger of hampering their continued growth and needed to be modernised quickly. The changes needed to be made before the volume of orders became unmanageable within the current way of working.
How did Outserve help?
Outserve worked closely with the team at Global Access Diagnostics to identify the best software to fit the business. Unleashed was a great fit for Global Access Diagnostics due to its brilliant integration to Xero and its powerful manufacturing features. In particular, the assembly features in Unleashed worked well with the manufacture of rapid diagnostic tests, offering a level of accuracy that met the high standards and traceability requirements of medical diagnostics testing.
Migrate Sage to Xero with Inventory Management
Xero was chosen as the software of choice for accounting. As a cloud-based solution, it allowed a dispersed team to access the software from any location with an internet connection, but it can also grow with the business without requiring expensive software licences.
Outserve designed a project plan and worked with the Global Access Diagnostics team to implement Unleashed and Xero. This plan was built around a tight deadline, as Global Access Diagnostics were anticipating rapid growth. The project also involved a migration of accounting data from the existing Sage system to Xero and the reconciliation of data after the move.
Outserve provided consultancy on process design, ensuring that the operating procedures GAD would follow were mirrored in Unleashed and Xero, and trained members of staff remotely to use the new systems. This was reinforced with a 'drill' of a large, live order to embed the processes and uncover any missing links in the processes.
Results
Asoka Karandawala, acting CFO at Global Access Diagnostics commented on the project-
"When we approached Outserve, we knew we needed to get our stock system sorted quickly. We were working to a deadline, as we were expecting large purchase orders from our customers and required a robust system to manage them. They also helped us to migrate from outdated, on-premise accounting software to a modern, cloud-based accounting system that integrated with our inventory system. All of this was achieved in under 6 weeks from us first touching base with Outserve.

Outserve provided project management and consultancy services that helped us set up our Unleashed and Xero systems very quickly and integrate them without fuss. Their project plan and guidance allowed us to avoid any of the expensive, or time-consuming pitfalls that can often happen with software implementation. They worked closely with us to understand our medical diagnostic manufacturing business, its needs and processes, which ensured that our systems were set up correctly for us. Outserve also supported us with training and test scenarios that ensured our team fully understood how to use the systems confidently.

Outserve took the risk and stress out of transitioning to new software and helped us to make the change quickly."